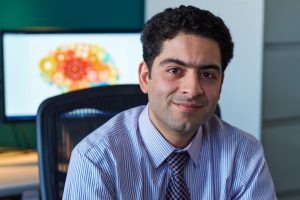 Abstract: Comcast Neurodiversity Initiative
In this electronic age, engineers have access to both a wealth of readily-available information and the capabilities of high-performance computing; as technology evolves, so too must our engineering work force. To reach the full potential of these technological tools, as well as to anticipate and find solutions to the novel challenges that come along with them, the next generation of engineers must increasingly embrace their own creativity and become innovators in their field. Our current education system not only fails to promote creative thinking, but also fails to retain and nurture students with high potential for creativity and diverse learning styles that do not fit in the one-size-fits-all model of the traditional engineering education system. Students with ADHD are a prime example of the high-potential divergent thinkers and risk-takers that often become academically, psychologically, and socially distressed by the current learning environment and teaching methods in engineering education. The significantly high rate of dropout and underrepresentation of students with ADHD in engineering programs is evidence of the failure of the current education system to recruit, retain, and nurture students with different thinking styles. Through an initiative called "Comcast Neurodiversity Fellowship," UCONN's School of Engineering will establish that students with ADHD are able to significantly contribute to research in the field of engineering.  In this presentation, findings will be presented from multiple NSF-funded research projects that aim to study if students with ADHD characteristics present higher creative potential than peers.
Bio:
Arash E. Zaghi is an Associate Professor in the Department of Civil and Environmental Engineering at the University of Connecticut.  He holds professional licenses in both Civil and Structural Engineering. In 2009, he received his PhD in Civil Engineering from the University of Nevada, Reno. After graduating, he continued there as a Research Scientist. Dr. Zaghi is passionately committed to research that may contribute to the development and application of next-generation structural materials, and to the transformation of the engineering education system itself.  His latest research endeavor examines creativity and engineering education, with a focus on the unique potential of students with ADHD.  Supported by multiple grants from the National Science Foundation, his research was highlighted by the American Society of Engineering Education's Prism Magazine.  He received a National Science Foundation CAREER Award in 2016 to study the significance of neurodiversity in developing a creative engineering workforce.  Dr. Zaghi's research interests intersect; he seeks to recruit and retain divergent thinkers to the engineering field who may contribute to transformative research in areas of national need.